As some of you know, our previous website was hacked. The new website is currently under construction with the layout being worked on and new items as well as old information for the previous website being added.
One thing that I would like to add to the site is a member gallery of trees. If you are a member and have photographs of trees you would like displayed on the site, please email jpegs to me.
I have already updated the calendar of meetings and events and if you scroll to the bottom of this page, you will always see the next three upcoming events. During construction, I will keep these updated. Please be patient with the rest of the site.
Thank You
Kathy Barbazon
President
Greater New Orleans Bonsai Society
Johnny Martinez Award Finalists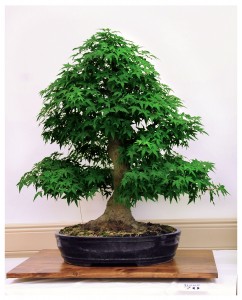 Congratulations to Dawn Koetting and Kirk Vaughn for becoming our Johnny Martinez Award Finalists. All members at the July meeting perused the trees on display before casting their votes. Dawn had two trees, a maple and a hibiscus, selected and Kirk had a Pine. The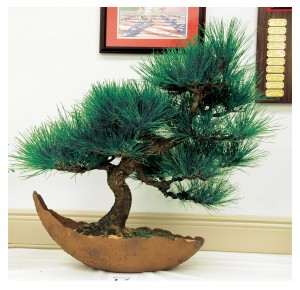 three trees will be on display at our annual Auction on August 15. All attendees at the auction will be asked to cast a vote to decide the winner.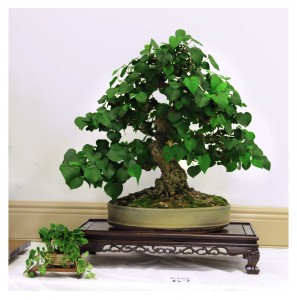 2015 Louisiana Day of Bonsai
You are invited to the 2015 Louisiana Day of Bonsai at the LSU Botanic Gardens Burden Conference Center, 4560 Essen Lane, Baton Rouge, July 25, 8:30 to 4:00.  The day of bonsai is a one day bonsai event where bonsai club members from Lake Charles, Shreveport, Lafayette, New Orleans, and Baton Rouge get together for a bonsai show to compete for the Vaughan Banting Award, have a bonsai lecture/demo, exchange ideas and bonsai techniques, enjoy raffles, door prizes, good food, and friendship.  Each club will have an opportunity participate and discuss bonsai techniques. The cost is $15 per person.  Members are encouraged to bring their favorite bonsai to exhibit for a chance to win the Vaughn Banting Award. Also bring anything you would like to donate for a door prize raffle.  Vendors are welcome at no extra charge.
The vendors planning to attend are John Caro ,(225) 323-1822, Baton Rouge, Greg Leblanc, (337) 302-9120, Lafayette, LA, Rick Berrigan, (601) 463-0179, Poplarville, MS, and Bill Butler, (504) 455-5282, New Orleans, all have starter bonsai plants to sell and other supplies. If you are looking for something special, contact them and they may be able to help you. Byron Myrick from Moselle, MS, has a super selection of custom made bonsai pottery at a good price. He can be contacted at (601)310-3225, or email at bmyrick@bayspringstel.net .
8:30 - Registration and Introduction
9:00 - Guy Guidry - Juniper Lecture / Demo
10:45 – Greater New Orleans Bonsai Society - TBA
11:30 - Lunch
1:15 - Lake Charles Bonsai Society - TBA
2:00 - Bonsai Society of Acadiana - Boyd Snellgrove – bougainvillea
2:45 - Shreveport Bonsai Society – TBA
3:30 - Louisiana Bonsai Society –different species of plants to use for bonsai.
3:45 - Raffle drawings, will raffle the demo tree, and draw for door prizes.
3:45 Vaughn Banting Award.
Directions: The Burden Gardens is Between OLOL Hospital and interstate 10 where interstate 12 intersects 10.  When exit coming from East I-12 or I-10 West, take I-10 East (to New Orleans) and keep to right on ramp, it exits onto Essen Lane, then take first right at light into Burden Gardens.  If coming from I-10 East, take Essen Lane exit, then turn left, then take first right into Burden Gardens.  The conference center is about ¼ mile, the first large building on right.
If you have any questions please let me know.  Please RSVP so we can tell how much food to order.
Thanks,
Lowell Tilley 
225-272-6744 (home) 
225-241-2396 (cell)